You're almost there! We want to help you take off to your summer happy place faster. Here are some teacher-approved tips to make your end of the year wrap-up in Showbie painless and quick. With these year-end tips, and some handy Showbie housekeeping advice, you'll be at the beach sooner than you think – and you'll save yourself a ton of time in the back to school season so you can focus on preparing to teach your best lessons, instead of worrying about tech set up.
Here's how to make the most of your year-end with Showbie's workflow essentials.
Streamline Year-End Marking
Staring at a pile of pupil assignments and final tests? No problem. Get your year-end final marking done quicker so you can get out of the classroom faster. 
Quick Marking streamlines all your feedback and assessment. With access to rich digital and verbal feedback options, emojis, text comments, as well as letter, number and grades – you can quickly personalise feedback to every learner. You can also save time sifting through stacks of paper workbooks with the ability to mark all your submitted assignments, or mark the individual questions across multiple assignments, all at once. Grading a batch of assignments is as easy as opening the activity in your Shared Items area and quickly cycling through your class list to add grades or precise feedback in each pupil's  assignment, all without ever closing the document.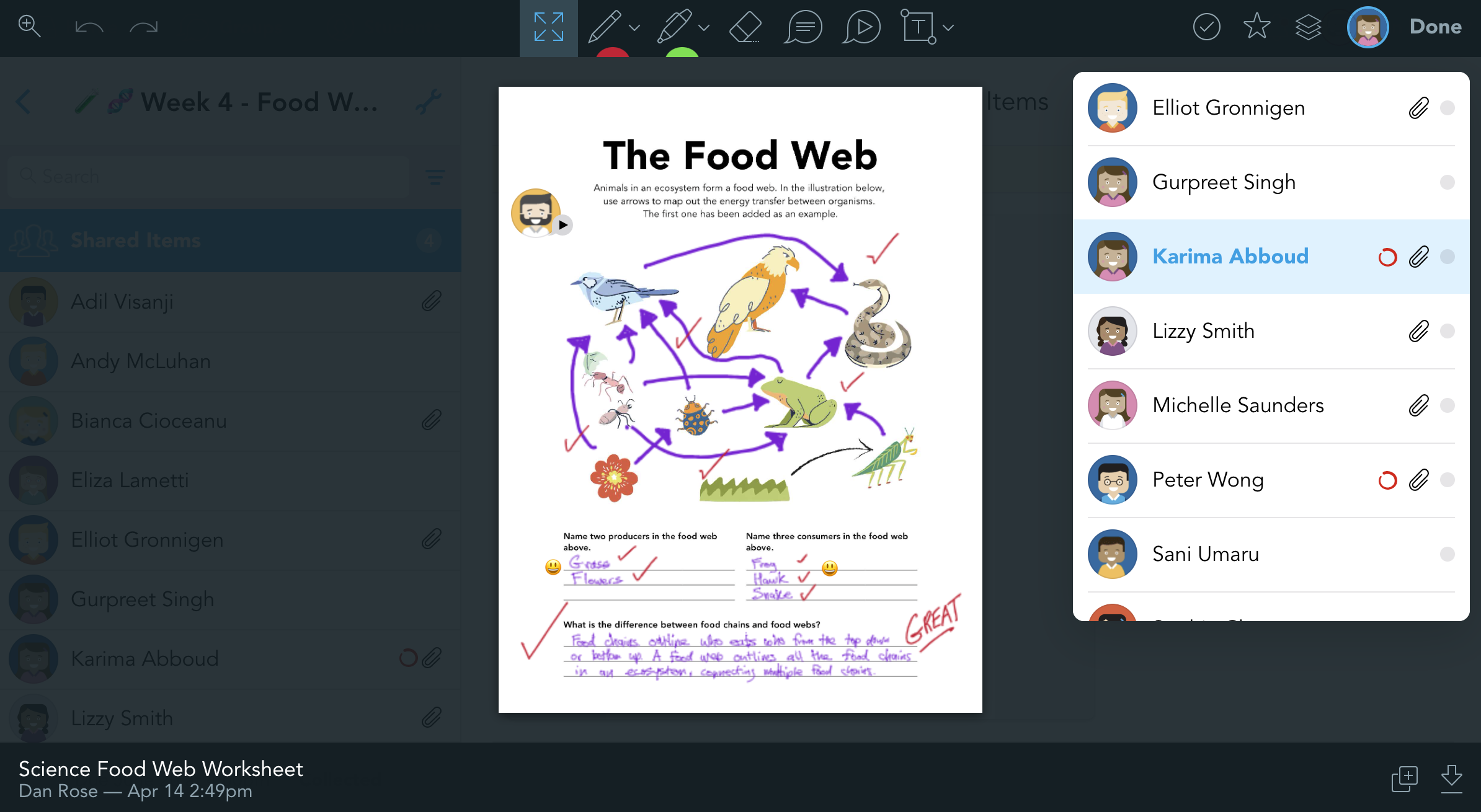 With the Quick Marking feature, grading a batch of assignments can be more streamlined than ever. You can stay on one file and quickly cycle through your class list and add grades or annotate them, all without ever closing the document. 
Learn more about Quick Marking here. 
Share Student Progress with Portfolios
Close out the year on a high note with Student Portfolios. Capture and share all the progress your students have made this year, celebrate their growth, and help students feel pride in their accomplishments whether they aced a test or showed resilience on a tricky assignment. You can also use Student Portfolios to identify opportunities for additional support or learning gaps to be addressed. 

If you have Parent Access enabled, Student Portfolios are a great way to keep parents and guardians engaged in student learning over the year with a digital report card. Parents and guardians can celebrate student progress, or be kept in the loop on areas for growth.
Student Portfolios are a Showbie Pro feature. Learn more about Student Portfolios here. 
Review All Your Students' Progress At A Glance
Feeling overwhelmed by all the marking to be done? Need a time-saver to help make end-of-year reporting a breeze? Assignment Overview in Showbie offers a high-level view of student progress on all the assignments and activities you've shared over the past year. 
With visibility on all work assigned to your class and all student feedback received, you can easily keep track of student engagement. With just a few clicks you can review student submissions and manage all your feedback, so you always know where you've provided feedback and which assignments still need final grading.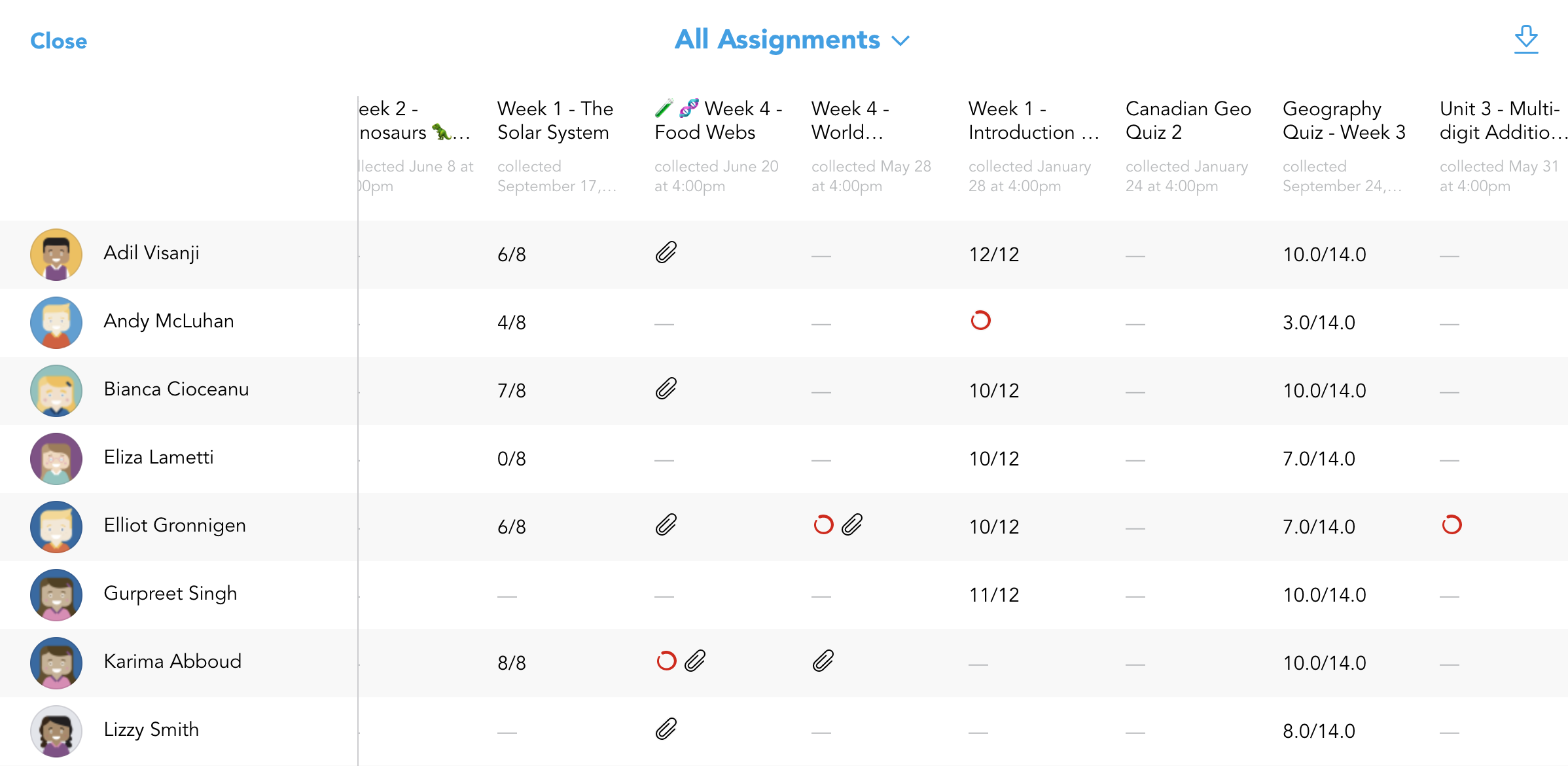 With Assignment Overview you can also spot where students are shining, determine which concepts may need another approach, and identify where students may need additional support in their learning journey.
When your feedback and grading are complete you can easily export all your grades in a .csv to share with school leaders, families, or for school reporting.
Learn more about Assignment Overview here.
Make Back To School Painless With Handy Housekeeping 
The end of the school year is a great time to do some Showbie housekeeping. It may be the last thing you feel like doing after a long year, but these tips can help you save a ton of time come back to school season in the Fall. 
Archive Classes & Assignments
With classes graduating and student rosters changing each year, it's important to keep your Showbie account clean and tidy so you can find what you need quickly. Archiving unneeded classes and assignments will make it easier to stay organised and get back up to speed preparing your new classes and lessons in Showbie in the Fall. Here's how to set yourself up for a painless return to school. While you're at it remember to archive or delete any Groups that you won't need next year to spare any confusion and keep your workspace organized. 
Copying Classes & Assignments
Perfected your class organization and structure? Copying classes and assignments in Showbie lets you preserve your perfect class structure, and lets you take advantage of the time you've invested in creating all those engaging assignments in Showbie. No more rebuilding your Showbie classes and assignments, and no more starting over from scratch every September. Simply copy your classes, rename and confirm your class and assignment settings, and add your new students. Just like that you can get down to teaching in a way that you know works! Here's how to take advantage of this time-saver. Once you've copied Classes and Assignments, you can also tailor student access settings to manage when students can access materials in advance of next year.
Sharing Assignments
With our new Assignment Sharing feature, it's easier than ever to swap classroom-proven assignments and teaching resources with colleagues in your school – all within Showbie. With easy sharing and import links, you can swap resources with new teachers or colleagues teaching the same year group or subjects, so you and your colleagues will have what you need to hit the ground running when school returns. Here's how to take collaboration further in Showbie.
Summer School: Showbie Certified Educator Program
School may be out for your students, but class is always in session for educators. Complete the Showbie Certified Educator program and become a Showbie expert this summer. The Showbie Certified Educator program is a free and exclusive community of educators who have a passion for Showbie. With the SCE program you'll learn about:
Communication

across your learning community, including families

Engagement

in and out of the class to empower learners

Assessment

best practices with verbal and digitized feedback

Efficiencies

in managing classroom and feedback workflows with Showbie
Take your skills to the next level, join a global community of educators, and help your school, your students and your entire learning community make the most of Showbie in the classroom. With successful completion of the Showbie Certified Educator Program, you'll be provided with a certificate and badge to add to your ed-tech portfolio. Bonus: you'll also be among the first to get a sneak peek at new features.
Learn more about professional development opportunities with Showbie here. 
With all your end of year wrap-up complete you can rest easy this summer and recharge with peace of mind knowing you'll be ready for the back to school season.
Need a little extra help winding down the year? Contact our team for some support at support@showbie.com or in the chat widget in the app, or explore our collection of handy support articles here.

Have a great break. You've earned it!