As many of you know, Socrative joined the Showbie family this summer. Since then, we've been hearing from lots of teachers who are happily using the two apps side by side in their classroom.
While we have plans for more formal product integration in the future, we wanted to give you some ideas on how you can use Showbie and Socrative together today.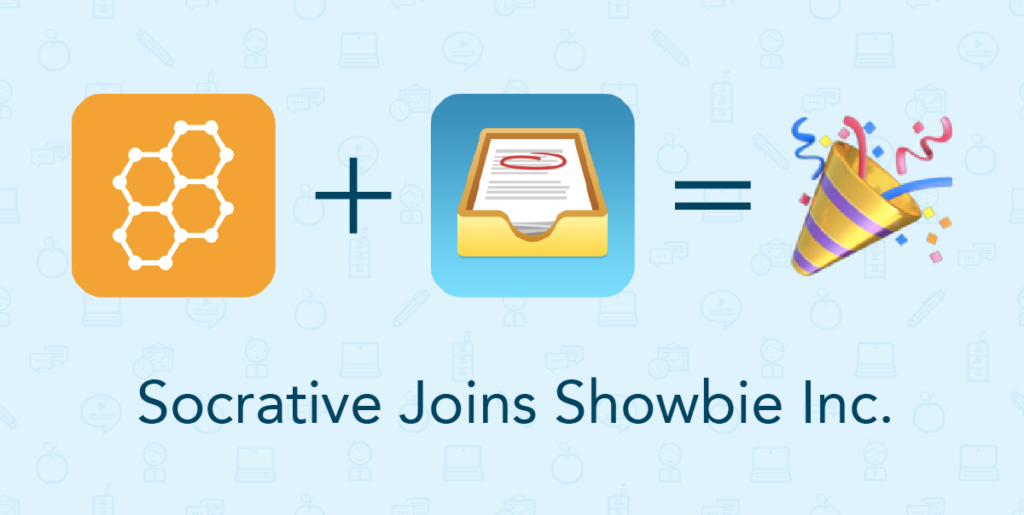 Let's say you are teaching Language Arts (using Showbie, of course!) and want to gauge whether or not students understood what you taught in the previous class. You can create a quick quiz in Socrative, asking a few key questions to assess understanding, then share the Socrative Room Name (the name of the Socrative room in which you created the quiz) in your Language Arts Class Discussion. When your students log into Socrative and enter that Socrative Room Name, they will instantly be granted access to your quiz.
Log into Socrative and grab the room name from the top of the screen, i.e. BETHHANSEN.

Enter the room name into Showbie's class discussion.

The student now enters that room name in the Socrative student app to enter the room.

Once the quiz is complete, it's easy to generate reports in Socrative so you can see which topics students understood, and which topics you need to spend more time reviewing. Again, Class Discussion can be used to drill deeper into topics where students scored lower, and to review individual questions from your Socrative quiz. There are three types of reports that can be generated in Socrative:
Full class reports, which show how the entire class – aggregated – did on a particular activity
Question-specific reports, which show individual responses to a particular question
Student-specific reports, which show how a particular student responded to each of the activity's questions
Here's how you can generate a Socrative quiz report and send feedback via Showbie.
You can see live results of your quiz as students submit their answers. In this example, you can see that question 1 will need to be addressed with the class. Once everyone's answers have been submitted, hit 'Finish'.

On the prompt, hit 'Reports' to see your reporting options. You can save a copy of the quiz results.

In Showbie, post a quick explanation on question 1 in the class discussion for all students to see.

If you belong to a Showbie Group whose members might find one of your Socrative quizzes useful for their classes, you can log into Socrative generate a quiz URL and post it into the Showbie Group. When your group members click this URL, voila — the quiz will show up in their list of quizzes, all ready for launching!
The video below provides detail on each of the above use cases.
If you have clever ideas on how to use our apps together, let us know by tweeting at us @Showbie.