Whether your classroom is in-person, remote, or both, we want to make sure you're feeling confident and empowered to make the most of hybrid learning this year.
In our previous Back to School blog posts, we've covered quick account setup and some time-saving tips for your teaching. We're back with even more top teacher-approved tips to help you save time, collaborate more, and give better feedback. 
Here are some tips we think you'll love! 
ASSIGNMENT SCHEDULING 
One great way Showbie helps you save precious time on class prep is with Assignment Scheduling. 
Create assignments as you need them, or when you have a moment to spare. With a variety of assignment settings to choose from, you have the option of sharing assignments that are open for student feedback, visible to give students an early start or keep them hidden until you're ready to distribute the work. 
Scheduling your assignments gives you the flexibility to manage your classroom workflow in a way that works best for you and your learners.
Learn more about unlocking this time-saving feature here! 
QUICK MARKING 
Forget lost assignments and piles of workbooks. With Showbie, providing rich and personalised feedback to your learners is easy, efficient – and found all in one place. Our quick marking feature allows you to painlessly navigate between assignments completed by your students without having to switch between screens to find individual submissions.
This top teacher-approved tip will save you time with marking and providing feedback to all your students, and keep your assignments organized and efficient. Here's how it works:
Once all your students have completed their assignments, open the assignment in

Shared Items

and tap on the

students' icon

 in the top right of the screen.

From there, a list of all your students who received that assignment will appear. Tap on any student to start providing your feedback, and tap done.

Use the directional arrows to quickly switch between other student work to keep all your marking organized and painless. Mark individual questions or entire assignments with ease. 
Learn how to give better feedback here. 
SEND TO NO ONE 
We know finding time to design the perfect worksheet can be a challenge. Showbie makes it easy to create, upload and manage all your assignments within the app. When distributing work in Shared Items, choosing the "Select None" option allows you to prepare assignments in advance, add or refine your material as learning progresses, and then distribute additional resources to your students once you're ready to move on.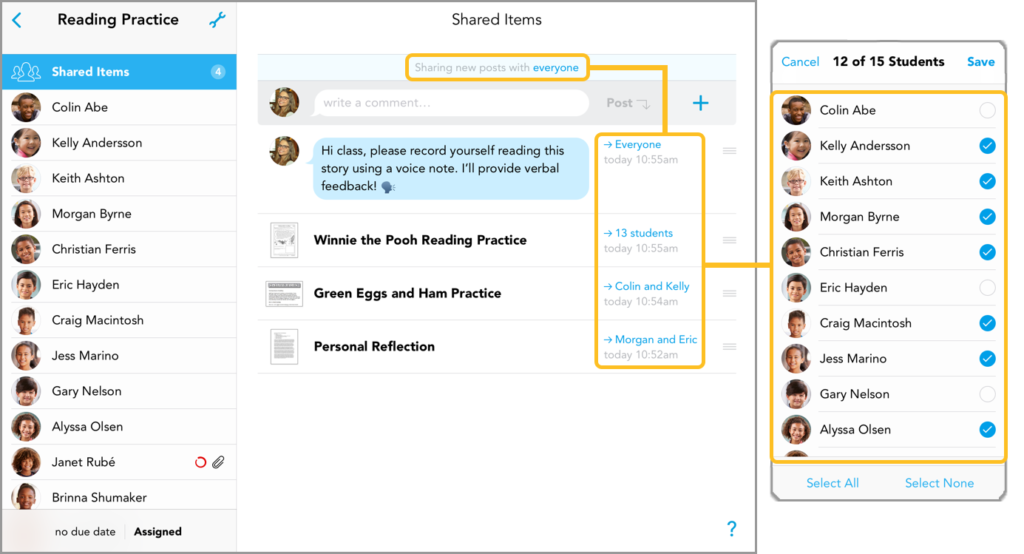 This great tip allows you to control the pace of learning to match your lessons and student progress without losing track of class materials. 
Learn how you can make assignment creation a breeze here. 
BONUS TIPS 
Take your teaching further this year with robust tools to provide rich, personalised feedback and genuinely engage with your learners in ways that work best for them. Put Showbie's built-in tools, including voice notes and screen recording to work in your class.
As always, our dedicated Support Team and Learning Specialists are here to help you make the most of your Showbie account. If you need any help, we're just a message, tweet or email away!